Testimony of Mohamed Saleh IBNI OUMAR, son of the opposition leader who disappeared 3 February 2008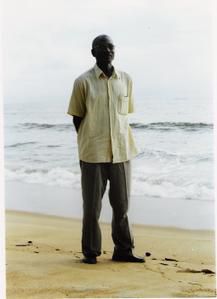 It was two years ago. Two long years of pain, of desperation, of waiting, often of despair, sometimes fatigue…
All these feelings are mixed, intertwined, leading into a squall of sadness – since that February night when my father's face left our affection for good.
I can still see him, seated in our family home bent over a book, his face oscillating between the softness of the humanist and the austerity of the scholar, the personified simplicity miles away from the excesses of the arrogant political scene of Chad.

I can still see him! On stage during the campaigns for the Party for Freedom and Development, or at the time when he was minister, his eyes exultant, when with his words he was building the Chad of his dreams, a Chad where mismanagement and hatred are once and for all abhorred.
I see him and I always will when he sat down with me for countless vigils to provide me with advice of infinite wisdom, to inculcate me with the ideals he believed in and for which he fought without respite, sometimes until exhaustion.

I can still see the moments we spent together like a swirling tempest in my mind. They are colliding with each other, every minute that marks my existence. And every minute reminds me with incomparable cruelty that perhaps I am never going to see him again.

For two years I've been living with this sword of Damocles hanging over my head. two years my family has survived with this unbearable pain, marked with a branding iron in our hearts.

For two years we've been asking ourselves every day when will this stop, when will this end, when will the day come that our husband, our father, our son, Professor Ibni will come back and pass the threshold of our family home, and, as if nothing happened, sit down on a rug and send us one of his smiles that, in those days, took us over entirely and warmed our souls.

Two years ago when armed men of the presidential guards came and took away my father under the eyes of his wife, my mother, and of the last of his sons, when they took him away to an unknown destination, of course I experienced hatred toward those whom I judged responsible for this abject crime.
Which human being would not have felt that way?
One would have to be above all human emotions, above all compassion, above all filial relation in order to not feel devoured by these emotions as unbearable as injustice, anger and above all powerlessness. I hated for a long time, intensely and without respite.

Today, I am no longer invaded by hatred.
Time did not do its work by scarring over the yawning wounds of the disappearance of my father, nor did the scurrilous sirens of oblivion wipe out step by step the memory of this Grand Man who, for me, shared the fate of Kourouma's character No, far from it.

Time will never totally erase my bruises, it will never make me forget what happened, it will never make those who loved him, who respected him, who adored him forget anything.
If we wiped out our memories of him today, we would commit the abominable crime of his disappearance a second time…

I have never forgotten what these two years after the tragedy have been to me, but at present I feel appeased.
Certainly, I am calling for justice and I always will. I am calling for light to be shone upon the fate that has been reserved for my father by his abductors. I am calling that those who have made themselves guilty of this be punished by the impartial sword of justice.

Certainly, the pain of our family will never be palliated as long as the body of Professor Ibni is not returned and as long as we cannot give him all due burial honours.
It is necessary that the recommendations of the commission of enquiry established after my father's disappearance be applied without attempt of concealment whatsoever.

Henceforth, I do not want violent or arbitrary revenge anymore. Henceforth, I refuse categorically that lex talionis be applied.

Because I do not wish that even my fiercest enemy, even the most hideous assassinator suffer from the same fate that my family has experienced so harshly.
We cannot belittle ourselves to the level of the abductors of my father by behaving without the least dignity and the smallest ounce of humanity.
We have the task to be worthy of this test, this is what my father would have wanted, that our often excessive passions be subjugated to our reason, and then our reason to justice.
I no longer desire an unleashing of hatred against those who made him disappear, I no longer want those who use violence for political ends to brandish my father's memory in order to justify their acts.
The truth about Professor Ibni's fate must come to light within the most reasonable appeasement and within a strictly legal framework.
This is the price, and this is the only price, for my father's ideal to triumph over death, over oblivion, and most of all over those who lost their humanity by taking him away from his loved ones.

I am dedicating this strand of text to the victims of the events of February 2008 and in particular to the memory of my older brother Tadjedine, a man of grand spirit and wisdom, who guided my steps toward the trails of tolerance…
Mohamed Saleh IBNI OUMAR